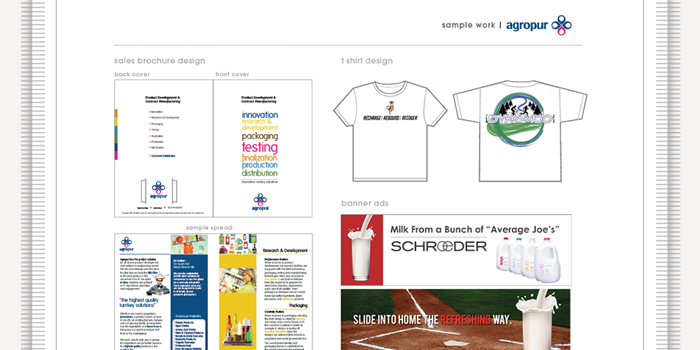 Branding – Our agency helped create an effective brand for Agropur/Schroeder milk as a dairy contract packaging and complete fluid processor company. The contract packaging business provides some of the top food and beverage manufacturers in the country with expertise in Extended Shelf Life (ESL), Ultra High Temperature (aseptic), organic products, Short Time (HTST) dairy and related quality assurance programs. The brand identity is a comprehensive communication package that positioned this company with our integrated marketing & design solutions. The agencies creative team produced various concepts and layouts on many materials offering effective branding with continuity and uniformity across their entire product line. Our in-house photography studio was used to capture brilliant and colorful product shots that helped define the brand. The company wanted an agency that can encircle and deliver a complete advertising campaign from one resource. We offered them a fresh new brand that included print, web, social, packaging and custom illustration.
Schroeder brand dairy and beverage products are available for sale in retail outlets throughout Minnesota. Schroeder products are also available in school cafeterias, restaurants and coffee houses and many other food service outlets. Locally produced – Locally sold.
Parmalat* brand of shelf stable milk, is the leading brand of shelf stable white milk in the US. Varieties include White (Whole, 2%, 1%, Skim) and Chocolate. Lactose free is also available in some areas. Sold in fine retailers throughout the Eastern United States and Puerto Rico.
Natrel Lil'Milk brand of single-serve, shelf stable milk is a convenient solution to enjoy milk in any situation. Available in white (whole, 2%, 1% and skim), chocolate and strawberry at fine retailers in the Eastern United States.
*Our agency helped create unique brands, designs and concepts for a variety of these products listed above.