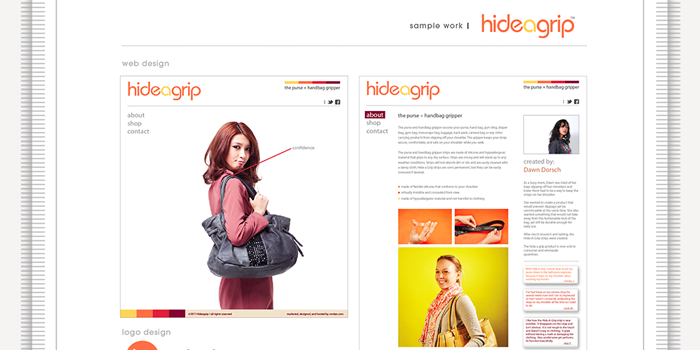 Web Site Design – Our agency designed, programmed and produced a custom consumer web site that presents the unique self stick product labels that keep purses and bags from falling off of users shoulders. The site is responsive with full color photographs that allow visitors to purchase the product on-line. A simple easy to use content management system was implemented and allows for easy updates and new PDF uploads. We also implemented SEO and hosting.
Packaging Design – Our creative team produced in-store marketing and layouts for the final product package design. The  designers created a new bold brand identity, vibrant corporate logo and all marketing slogans. The package design allows for stores to display the strips to customers in a dynamic and precise manner for easy to see purchasing. Our agency also created informative sales sheets that were sent out to various stores to get them to stock the product.
Social Media –  Our agency social media division 'COCOON' developed a fabulous on-line campaign where the links to the selected social venues created many likes and analytics to prove it. Our goal with the social media campaign is to drive our customers to the web through search engines using key words and phrases. One of our marketing goals is to sell our products on-line, but our true strategy is to get the product in the huge consumer chain stores.